On the eve of the Newcastle Premiere of Little Richard: I Am Everything at the Regal Cinema in Birmingham Gardens, here is a timeline of events and eye witness accounts relating to Richard's famous epiphany in the middle of Newcastle Harbour when he threw his jewellery off the Stockton Punt.
Sincere thanks to Rock 'n' Roll researchers Roland Bannister, Rick Pointon and Roderick Jordan from whose detailed research this timeline has been prepared, and is available on the post here:
BOP BOPA-A-LU A WHOP BAM BOO! HOW LITTLE RICHARD MADE ROCK AND ROLL HISTORY IN NEWCASTLE
TIMELINE
11 June 1957
From June 1957 Little Richard was declaring he would become an evangelist and retire from Rock 'n' Roll by September 13.
28 September 1957
Little Richard arrives in Australia for an Australian Tour.
https://www.gettyimages.com.au/detail/news-photo/entertainers-little-richard-alis-lesley-and-eddie-cochran-news-photo/118362633
2 October 1957
Little Richard and bands flew to Newcastle (Butler Air Transport) arriving at Williamtown Airport. Then onto the bus to Stockton Punt to ride over to Newcastle.
2 October 1957 (Wednesday Night) Little Richard at the Newcastle Stadium to play two shows; 6pm and 8:45pm
2 October 1957 Little Richard and bands fly to Brisbane.
3 October 1957
Newcastle Morning Herald front page reviews night before trashing the Newcastle Stadium.
Harry Mack,  Manager of the Newcastle Stadium is not impressed with the damage demanding guarantee against damage before next booking. Two girls who won the Rock n Roll Competition described by Little Richard as the most enthusiastic were FAYE FITZSIMONS and JANELLE PARKER of Wallsend.
4 October 1957
Earth's first orbiting satellite, Spuknik, launched into Earth's Orbit by the Soviet Union.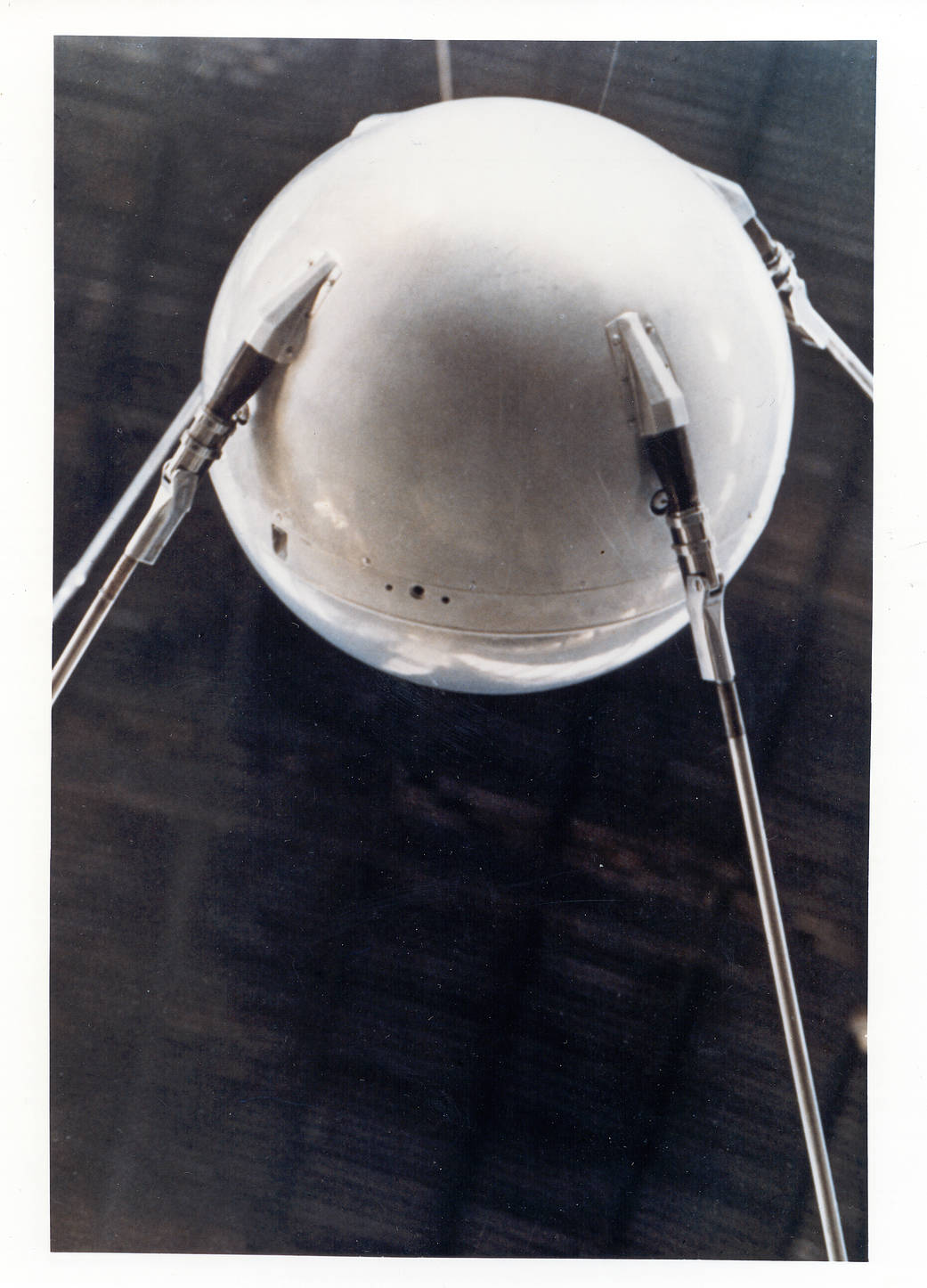 7, 8 and 10 October
News reports of Spuknik over Adelaide, Melbourne and Sydney.
8 October 1957
On the Adelaide to Melbourne domestic flight Little Richard became convinced that the aeroplane was on fire, panicked and began to pray.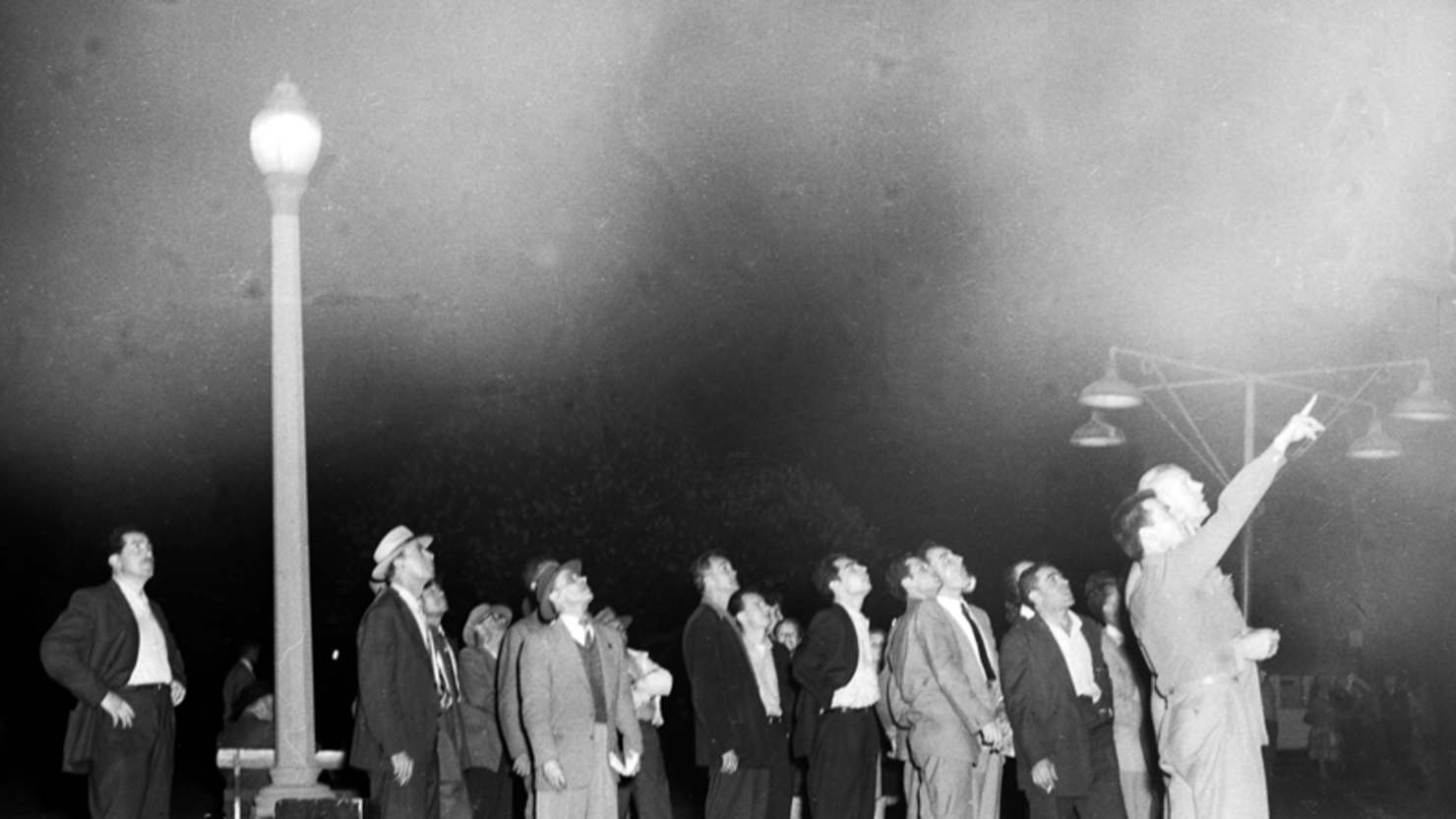 9 October 1957 (2nd Melbourne Concert)
Johnny O'Keefe paraphrased by Bob Rogers (1957/1975):
We got to Melbourne where the tour really fell apart. Little Richard was very worried  about the first Sputnik that was going on over Australia after the tour started. About half past eight at night between the first and second shows we were all standing in a lane outside the West Melbourne Stadium looking up into the sky to see Sputnik. And there it was, this bloody white thing going across the sky and Richard says: That's it! The end of the world is coming. I'm going home. I'm going to die in America, I'm not going to sing anymore. We really didn't know whether he was going to quit at that moment or do the second show. As well as appearing on the show I was the compere on a backstage mike. The time came for  Richards bit and I said Now here he is — the King himself – Little Richard! And out comes Richard in all his robes. He'd got himself a beautiful Bible and he said: Ladies and Gentleman I'm not going to sing for you tonight I'm gonna tell you about the Lord! And he opened his Bible and read to them for 20 minutes. They copped it sweet! He went off stage cancelled his tour got on a plane the next day and went back to America thinking the end of the world was coming.
10 October 1957
Newcastle Morning Herald advertisement for Newcastle Show and "Russian Satellite may land in Dangar Park Mayfield on Friday Night to View the Opening of Mayfield Spring Festival The Greatest Show on Earth"
10 October 1957
"The World Is Ending He says…": Little Richard article 10th October 1957 from the Melbourne Herald newspaper. It reads:

Visiting Negro rock 'n' roll singer Little Richard (above) said today he was cancelling two concerts in Australia because the end of the world is coming.

It's that Russian satellite he said at his Melbourne Hotel I'm flying home from Sydney on Sunday to be baptised. The two concerts he has cancelled were to have been in Melbourne

on Sunday, and in Brisbane on Monday, both for charity. His two concerts in Melbourne for tonight will go on. Little Richard arrived in Melbourne on Tuesday.

I wanted to cancel my Melbourne concerts and the concerts in Sydney and Newcastle but decided to keep faith with the kids Little Richard said.

'Life and Death'

But I want them to realise that the Lord means more to me than anything he added.

It's a matter of life and death to me that I get back to the West Coast by Monday. The man who is going to baptise me won't be able to do it after Monday. My Sydney concerts on Saturday will be my last ever — I hope the kids who scream over me will accept the Lord in the same way.

Little Richard prays in his dressing room before his appearances and gives out Bibles instead of autographs to his fans.
Roderick Jordan's comments on the above article:
The official tour was always scheduled to start on the first, finish on the 12th and for the party to leave on Sunday 13th.
Lee Gordon did not do charity concerts. He was money driven.
We now know that two concerts in Brisbane (14th) were without doubt, cancelled
He left Australia and not only performed shortly thereafter in America but also completed his recording contract with Speciality records in early November.
11 October 1957
Little Richard photographed at Sydney Airport reading a Bible awaiting the plane to Newcastle.
"The Soviet Union had just launched the Sputnik satellite. As it passed over Australia, Little Richard underwent a powerful religious experience, an apocalyptic vision of his own damnation. During a domestic flight he became convinced that the aeroplane was on fire, panicked and began to pray. (Ed- This occurred on 8 October 1957 Adelaide to Melbourne Flight). On October 11 1957, while crossing the Hunter River on the Stockton ferry on their way from Williamtown airport to a concert in Newcastle, he threw four diamond rings into the water as a gesture of his faith. This was witnessed by members of O'Keefe's band. Sensing that the end of the world was imminent, Little Richard cut his tour short (Ed-not true), flew home to be baptised, took up bible studies in Alabama and was ordained a minister. For the next few years he performed only gospel music." – Newcastle Historical Society Website quoted by Roderick Jordan.
11 October 1957
Little Richard and bands arrive at Williamtown Airport, take Bus to Stockton. On Stockton Punt he throws jewellery into Hunter River.
12 October 1957 (International Reports)
First reports in international newspapers begin appearing.
The site of the ring throwing gesture is variously expressed in the British and American Press as 'Sydney', 'Sidney, 'here', 'harbour', 'there', 'An Australian River':
3 August 1958 (First Australian Report of Ring Throwing)
First Australian Report of Ring Throwing appears in 3 August 1958 in the Sydney Morning Herald:
Unidentified reviewer in Sydney Morning Herald (1957/3 August 1958 p.98):
"If I keep getting postcards from Mr O'Keefe at the present rate I will soon have enough pin-ups of Australia's rock 'n roll king to paper a small caravan. His latest disc, a composition (sic)  hatched out with two others who should know better, sounds like the day Little Richard threw his jewels over the Newcastle Bridge. It's catastrophic and what's more something odd happens to the tempo before the last chorus, if you can stay with it that long."
Witness Accounts of 11 October 1957 event with date of telling:
Johnny O'Keefe paraphrased by Bob Rogers (Account of 11 October 1957/Published 1975)
"I had a great time on that tour but it was a rather ill-fated affair. Little Richard was a strange fellow really, effeminate and very religious. I remember we were to play Newcastle and he was becoming very morose. We were going to Newcastle city over the Hunter River on the Stockton Ferry and his blokes in his band were ribbing him. They said he was thinking of quitting show business and serving the Lord. His bass player said: If you want to serve the Lord you should throw away all your diamonds and all your rings. He always wore a lot of expensive jewellery. Well, that's what he did, got out of the bus we were on, walked to the side of the ferry and threw his jewellery into the Hunter River. I believe people are still finding bits and pieces of it up there." – Bob Rogers paraphrasing Johnny O'Keefe (1957/1975)
Little Richard to Joan Rivers (Account of 11 October 1957/Recorded 5 March 1986)
https://www.youtube.com/watch?v=MTyOVzdCsuU
Timecode: 1:49 – 2:50
JR. Didn't you throw all your jewellery away at one point went to Australia and you just went
"to hell with this" and threw it out?
LR. "Yes I was in Australia and I had a dream one night that Russia had sent the Sputnik over Australia I was there with Eddie Cochran and myself and Elvis Presley and it was really a fantastic tour we was on and I was on the ferry boat going over to another little town and I told the guy that I had a bad dream that night. He said if he really had that  dream would you throw all your jewellery in the water and I did. I threw it was about $100,000 worth of Jewellery. I threw it in the water and I've been trying to find that fish ever since."(Audience laughter)
LR. (To audience) Please!
JR. You just threw it in you didn't care?
LR. Yes I threw in one piece by piece because I was thinking all the time and when I got to the last piece I said "Must I" Somebody said "Go on" I said "No " "Mister will you?" (Lowers dark glasses) "Oh my God"
Johnny O'Keefe to Rick Pointon (Account of 11 October 1957/ Letter 26 June 1987)
"Richard was travelling with his band, Gene Vincent and the Blue Caps, Eddie Cochran, Alis Lesley,  myself and my band, the Dee Jays. We had all arrived at Williamtown Airport and were travelling in  a bus to Newcastle to play the show.

Richard had been very pensive during the prior days about religious matters and when we arrived at the Stockton Ferry and the bus boarded the ferry, Richard in his own style of speaking said "I'm quittin' show business and I'm going to serve the Lord".

Basie, (Olsie "Bassy" Robinson) his bass player remarked, "If you're going to serve the Lord Richard,  you should give away all your jewellery." Just as soon as this had been said Richard peeled off his rings  (most expensive ones) and his watch, opened the window of the bus and threw his possessions into  the Hunter River." – Johnny O'Keefe (1957/1987)
Max Moore, Manager of Lee Gordon's Big Shows to Richard Guilliat (Account of 11 October 1957/Published 1998)
Richard Guilliat, 12 September 1998, The Legend of Lee Gordon, Sydney Morning Herald. Max Moore, Manager of Lee Gordon's Big Shows:
'And then, of course, on the Stockton ferry to Newcastle he suddenly got God and he tossed all his rings into the drink."'
Little Richard to Charles White (Account of 11 October 1957/Published 2003)
"I had never liked flying and I had never been so far on a plane before. It worked on my mind. When it got dark and I could see the engines on the wings glowing red hot, I thought the plane was on fire. My mother had a religious book called The Great Controversy by Ellen G. White, which showed angels with yellow hair flying. In my mind I pictured these angels flying up under the plane holding it up. It was like a sign to me. It came to me later that the plane wasn't on fire it was just that I had never been that far away before. It was very strange to me.

Then, on our fifth date of the two-week tour, we had left Melbourne for Sydney, and forty thousand people came to see me at the municipal outdoor arena. That night Russia sent off that very first Sputnik. It looked as though the big ball of fire came directly over the stadium about two or three hundred feet above our heads. It shook my mind. It really shook my mind. I got up from the piano and said, "This is it. I am through. I am leaving show business to go back to God."

The very next day we were leaving Sydney on the ferry, and I had told the fellers in the band that I was quitting. Clifford (Ed – Clifford Burks, Tenor Saxophone) didn't believe me. So I said, "Would you believe it if I throw this ring in the water?" Clifford tried to grab it and nearly fell into the water behind the boat.

There were ten days of the tour left to run, but I would not work any more. Our tickets home were bought on the basis of a two-week tour, but I demanded passage back to the States for the total entourage ten days early. The incredible thing is that the plane we were originally scheduled to return on crashed into the Pacific Ocean. That's when I felt that God really had inspired me to do the things I did at the time." – Little Richard, pp. 163-165 (The Life and Times of Little Richard The Authorised Biography By Charles White, Little Richard. Omnibus Press, 2003)
Eddie Cochran – retold by Bobby Cochran (Account of 11 October 1957/Published 2003)
"On the October 4 date of the two-week-long tour, the show stopped at an outdoor arena. Forty thousand screaming teens shoehorned into the venue to witness the rock 'n' roll mayhem. That night, Russia launched Sputnik, the world's first artificial satellite; the Communists had beaten the Americans into orbit.

Richard was stunned when he saw the big ball of fire course directly over the stadium. Surely it was a sign, he thought. It made no matter how big a star he might be-he must save himself from his own damnation. So he stood up from his piano , vowing to forever after forsake show business for God.

The next day, as the musicians were in the bus departing on the vehicle-carrying ferry to the next city, Richard made his decision known. No one believed him. To prove his conviction, he tore off his sparkling diamond jewelry and threw it into the river behind the boat. Then he gave away the rest of his showbiz trappings, with Gene Vincent ending up with several of his flamboyant suits. Richard soon boarded a plane for religious seclusion in America, leaving half a million dollars' worth of cancelled Australian bookings in his wake-and "The Big Show" at an abrupt end." – p. 98 – Read more of the antics from the 1957 Australian Tour from – "Three Steps to Heaven: The Eddie Cochran Story" by Bobby Cochran (Hal Leonard, 2003)
Grady Gaines, tenor saxophonist and Drummer Charles Connor – told by Susan Whitall, Kevin John (Account of 11 October 1957/Published 2011)
"Little Richard was on a ferry when the meltdown began. Yanking the heavy rings off each of his fingers, he threw them out the window and into the Bay of Sydney, ignoring the shrieks of his band. No more rock 'n' roll! No more sin, only salvation, the gospel and the Lord!…

The crisis came in the fall of 1957. He acknowledges that, but Richard denies tossing the bling into the drink. "I heard all of that too, that's not true. People just love to make up stuff and see how it sounds," he said, laughing. "I would like them to throw some rings in my lap right now!" But two surviving members of his band, the Upsetters , saw it happen. "We were in Australia, south Australia , going to a town on a ferry. He threw them out the window," said tenor saxophonist Grady Gaines. Drummer Charles Connor agrees. "That's right, he throwed his rings. It wasn't a river, it was a canal, like. It was about 25,000 dollars worth of rings." The Upsetters howled and moaned as they watched the glitter disappear into the depths as Richard renounced all. And he was as good as his word. Tickets were sold out for a big November 3rd show at New Orleans' Masonic Auditorium, but when he returned from Australia, he canceled."- Fever: Little Willie John's Fast Life, Strange Death, and the Birth of Soul By: Susan Whitall, Kevin John (2011) – Excerpts from Chapter 10, A Valuable Science [Google Books]:
Charles Conner – Little Richard's Drummer in The Upsetters. (Account of 11 October 1957/Published 2015)
"I remember our second ferry ride, Richard kept his oath. This was near the end of the tour. We were coastin' on the ocean and Richard was starin' over the side of the ferry, just staring' hard at the water. Without warnin' he started pullin' off his jewelry. He was tearin' if off, his rings, his necklaces, everything. I counted three rings before I had to look away, I couldn't bear it. It was like seein' the final period of Richard's rock 'n' roll days.

I felt weak in my legs. I had to sit down. I just knew that was the end of Richard and The Upsetters. All the great times we had, thrown into that ocean. Everything we had experienced, drowned in the sea.

The other boys were downtrodden, too their spirits failed. we all were mumblin' to one another about how Richard didn't have to throw all that jewelry away. He could have given it to us! I mean, that jewelry must have been worth a year's pay! Maybe even two years'! We understood now that Richard was beyond reproach; he couldn't be convinced." – Keep A Knockin': The Story of a Legendary Drummer By Charles Conner, Ziv Biton (Waldorf Publishing, 2015) [Google Books Excerpt]
John Laws (Account of 11 October 1957/Radio Broadcasts in 2017 and 2020)
John Laws (2017, 2020) Asserts "that he, Little Richard and Johnny O'Keefe were on route to Stockton to perform a show for a mental hospital there, and half way across Little Richard uttered "I have seen the light" and then proceeded to remove all his rings off his fingers and throw them into the Hunter River.
Pat Barton to Rick Pointon (Account of 11 October 1957/Told to Rick Pointon)
Rick Pointon confirms that the late Pat Barton was on the bus/punt from Williamtown to Newcastle obtaining interviews for Radio Station 2KO and 2UE and discussed story many times.
Reg Mason and Mark Murphy to Roderick Jordan (Account of 11 October 1957/Told to Rod Jordan)
Rod Jordan in his book The Full Story of a Rock 'n' Roll Tour Australia – 1957 by Roderick "Roddy" Jordan interviews:
Reg Mason who worked for Rayfords Record Bar in 1957 and said  "PAT BARTON TOLD HIM "HE HAD NO IDEA WHY, BUT LITTLE RICHARD JUST STARTED RAMBLING ON & TALKING ABOUT RELIGION & HE THREW HIS RINGS OFF THE STOCKTON PUNT INTO THE HUNTER RIVER"
Mark Murphy who also worked for Rayfords Record Bar in 1957 (his father managed the shop)  "MARK WAS BACKSTAGE WITH THE ARTISTS AT NEWCASTLE STADIUM. HE CLEARLY REMEMBERED EVERYONE TALKING ABOUT RICHARD THROWING HIS JEWELLERY OFF THE SOCKTON PUNT.
11 October 1957 (Friday Night)
Little Richard at the Newcastle Stadium to play two shows; 6pm and 8:45pm.
"Incidentally, the show that Richard played that night at the Newcastle Stadium was the best one that I ever saw."  – Johnny O'Keefe (1957/1987)
12 October 1957
Little Richard played three shows in Sydney (12th).
13 October 1957
Then on the following day (13th) Little Richard jumped on a plane to go home and had fulfilled all his obligations to promoter Lee Gordon.
Acknowledgments
This Timeline was assembled with the research conducted by Rock 'n' Roll Researchers Roland Bannister, Rick Pointon and Roderick Jordan.
Gionni Di Gravio, OAM
University of Newcastle Archivist & Chair, Hunter Living Histories